Free Community Trunk or Treat Event | October 19th
Looking for the perfect Halloween event for your family? Join us for our 6th annual Trunk-Or-Treat night! This event is totally FREE and all are invited.
Each year my team and I host 4 community events for the Lincoln and Rocklin area communities. From a big Easter Egg hunt, to Movie in the Park nights, to Cookies and Milk with Santa!
Just in case you haven't heard of Trunk-Or-Treat before, here is how it works:
It is essentially Tailgate Trick-Or-Treating. People volunteer their car trunks, which they decorate in Halloween theme, and children go from trunk to trunk Trick-or-Treating! It is as fun as it sounds! Especially when there are dozens of cars.
This year we are hosting this fun-filled evening at Twelve Bridges Park! From 6 - 8pm, families can enjoy Trunk-or-Treating, a craft, bounce houses, games, face painting, yummy treats, prizes and more!
Here are a few details:
-Event will be held at Twelve Bridges Park on Friday, October 19th | 2450 Eastridge Dr, Lincoln, CA 95648
-Car setup for participating cars begins at 5:00 (PLEASE VOLUNTEER YOUR CAR).
-All participating cars must bring candy to hand out at their vehicles for kids who are Trick-Or-Treating
-Trunk-or-Treat from 6:00- 8:00pm
-Prizes will be given to every car that participates, and a grand prize will be given to the best car, and best costume! Register your car ASAP for a fun prize!
-There will be two bounce houses, one for kids ages 1-5, and one for kids ages 6+
-Crafts, Face Painting, Games, Treats + more
-We will have photographer Aya A. there capturing all of the fun!
IMPORTANT DETAIL: In order for this event to be successful, WE NEED TRUNKS! If you would like to decorate your trunk and participate, please register here: RSVP here or email/call me directly at Admin@AmandaToddGroup.com and 916-299-3905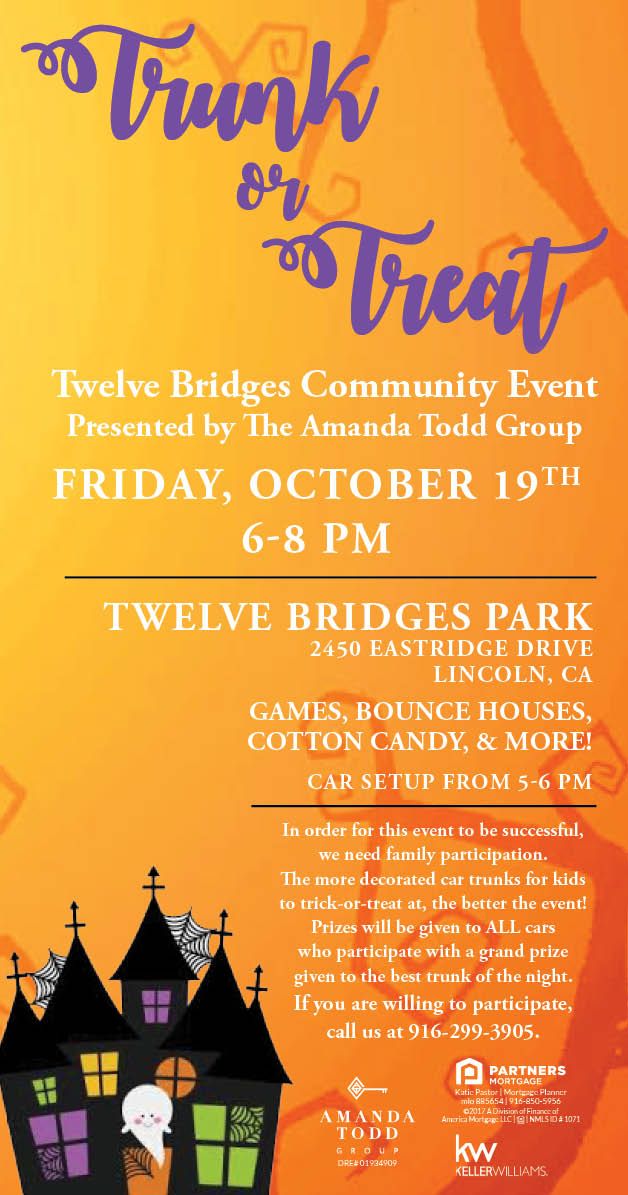 *Special thanks to our sponsor Katie Pastor from Partners Mortgage*
Get inspired! Here are some of my favorite trunk ideas! (Source/Pinterest)